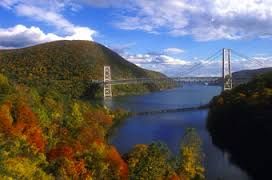 HUDSON VALLEY
The Hudson Valley comprises the valley of the Hudson River and its adjacent communities in the U.S. state of New York, from the cities of Albany and Troy southward to Yonkers in Westchester County. Depending upon the definition delineating its boundaries, the Hudson Valley encompasses a growing metropolis which is home to between 3 and 3.5 million residents centered along the north-south axis of the Hudson River.
At the time of the arrival of the first Europeans in the 17th century, the area of Hudson Valley was inhabited primarily by the Algonquian-speaking Mahican and Lenape Native American peoples, known collectively as River Indians.
The first Dutch settlement was in the 1610s with the establishment of Fort Nassau, a trading post (factorij) south of modern-day Albany, with the purpose of exchanging European goods for beaver pelts. Fort Nassau was later replaced by Fort Orange. During the rest of the 17th century, the Hudson Valley formed the heart of the New Netherland colony operations, with the New Amsterdam settlement on Manhattan serving as a post for supplies and defense of the upriver operations.
During the French and Indian War in the 1750s, the northern end of the valley became the bulwark of the British defense against French invasion from Canada via Lake Champlain.
The valley became one of the major regions of conflict during the American Revolution. Part of the early strategy of the British was to sever the colonies in two by maintaining control of the river. for bookings call 917.815.9778 or visit our site www.aahoy.net