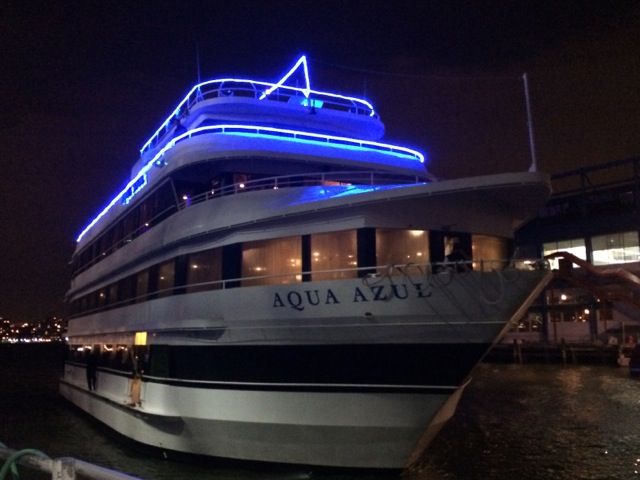 AQUA AZUL call for quote
The AQUA AZUL is a charter yacht available for private group celebrations and corporate gatherings. Her design makes her especially attractive for upscale events. She holds 75-345 guests comfortably for an elegant dining & cruising experience. The food and service aboard AQUA AZUL are second to none.
The space and decor on board the AQUA AZUL clearly distinguish her from the typical dinner boat in NY Harbor. This yacht has 4 large decks – each with its own bar – all available to guests: the piano dock, the dining deck, the dance lounge and the upper deck. A bridal cabin with a private shower other amenities is also available to our couples.
The yacht's interior on the main deck features a Soho-inspired salon with sophisticated furnishings, a fireplace, a baby grand piano and a large mahogany bar. Back to stern are 2 cozy retreats with elegant seating and a flat screen television. Aqua Blue is the main tone on board. The dining deck, one level above, offers a spacious, elegant dining room with beautiful cabinetry, silk linen and a bar. The dance lounge includes another large mahogany bar w/ high tops and outdoor-inspired, Hampton-style seating. The expansive upper deck is ideal for enjoying NYC's amazing skyline! Book. AQUA AZUL at WWW.AAHOY.NET 917.815.9778