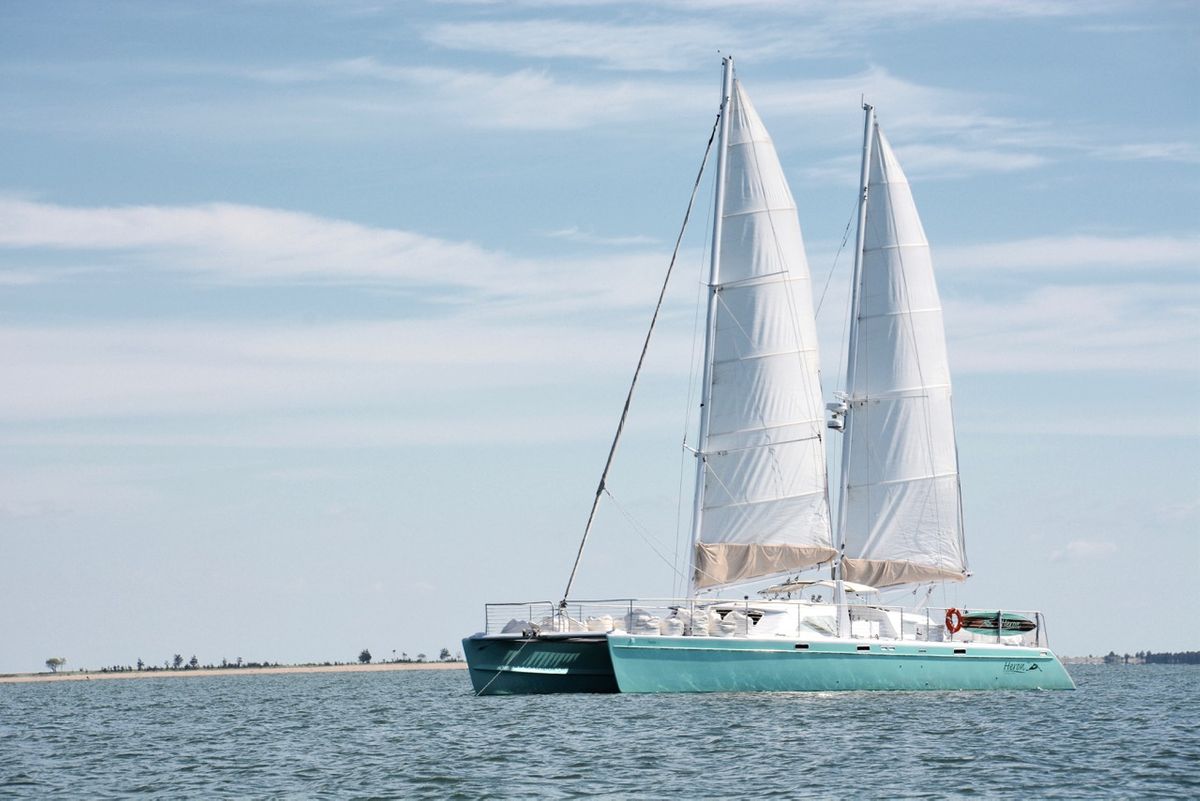 Heron Sailing Charters
She is the yacht everyone notices: The seafoam green, 2 masted catamaran sailing by your summer home in the Hamptons, your NYC office, and your villa on St Barth…
Heron was designed by world-renowned multihull designer Chris White, who called her the Concept 63; the only one of its kind. Not your typical charter yacht; she was created for a family to sail around the world. She was built in an aircraft hangar in Dayton, Ohio and then trucked to the Great Lakes, where she continued on her journey to Maine.
Heron never left Maine and sat idle in Portland Harbor for 9 years before being discovered by Capt. Cameron McLellan…
Capt. McLellan spent a year seeing Heron back to a seaworthy condition. Tireless restoration and sea trials eventually lead to Heron's first passage to the Caribbean. Capt. McLellan sailed out alone on November 1, 2009 on a course to the Virgin Islands.
Enter Capt. Shannon Carleton- now Shannon McLellan and first mate aboard Heron…
Upon seeing the potential for a charter business not only in the islands but New York's exclusive Hamptons area as well, Cameron and Shannon began the tedious, 3 year process of converting Heron from a recreational yacht to a U.S. Coast Guard Inspected Vessel. It's rare that an existing yacht can be converted to such, but Heron was an exception. She spent 2 months at Gold Coast Yachts on St Croix being outfitted for her upcoming inspection, then left for Trinidad for the finishing touches on the aesthetics end. There her restoration was complete; a crew of 12 working day and night to complete the task of bringing this beauty to her most luxe condition before the summer sailing season began in New York…
Heron arrived in the Hamptons in the summer of 2012. Word spread about the fine yacht with its super-chic, French Riviera style and she became the most sought after boat on the East End. Heron was the first Inspected catamaran to offer private charters in the Hamptons.
While her centralized cockpit allows for uncharacteristically spacious living quarters, it generates a unique layout quite conducive to hosting large gatherings. With ample space below decks as well as topside, guests mingle safely and comfortably, without feeling confined.
One of a kind, indeed. Heron is a rare beauty.